The Atari 7800 is a truly underrated and oft-overlooked game system.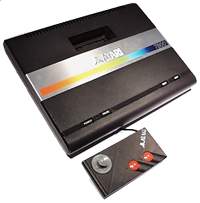 It is the only Atari machine that truly fulfills the promise of every game system before it: arcade-perfect ports of classic games. No longer would classics such as Ms. Pac Man be butchered beyond recognition by hardware that wasn't up to the task. Seriously, the versions of Dig Dug, Ms. Pac Man, Food Fight, and Donkey Kong Jr. for the Atari 7800 are *the* kinds of experiences you would want from anything called Atari.
Unfortunately this achievement came just one generation too late. With the NES in full-swing, players were no longer thirsting after perfect ports of arcade classics. Thanks to Nintendo and Sega, they now had access to great original software developed for the home a la Super Mario Bros., Legend of Zelda, and Metroid. It was at this moment in time that the arcade experience was finally surpassed by the home video game console, a blow from which arcades were never able to recover.
I still think the Atari 7800 represents a good deal for the retro enthusiast on a budget. Despite the tragically small library of Atari 7800 games, the Atari 7800 features backwards compatibility with the Atari 2600, only the most popular video game system of all time. Not a bad feature to boast. Two systems for the price of one.
So here's to you, Atari 7800! Shine on you crazy diamond!